AUDIOPHILE CLUB NEWSLETTER
STOP PRESS
La SOURCE: HAUTE FIDELITE REVIEW2010 ..
CLICK ABOVE TO READ THIS RAVE REVIEW OF LA SOURCE


WE HAVE JUST RETURNED FROM EXHIBITING AT THE MUNICH HIGH END SHOW MAY 2011
PLAYING TO GREAT ACCLAIM IN OUR ROOM WITH AN ASCENDO SET UP WAS THE "LA SOURCE" PLAYER.
ON STATIC DISPLAY WAS THE "LA SOURCE" DAC/ MUSIC CONTROLLER, THE "LA FONTAINE" PLAYER/HUB AND
THE "LA FONTAINE" DAC/MUSIC CONTROLLER.
Three other manufacturers were using La Source/La Fontaine: Audiopax, Finite Elemente, Avant Garde.
La Source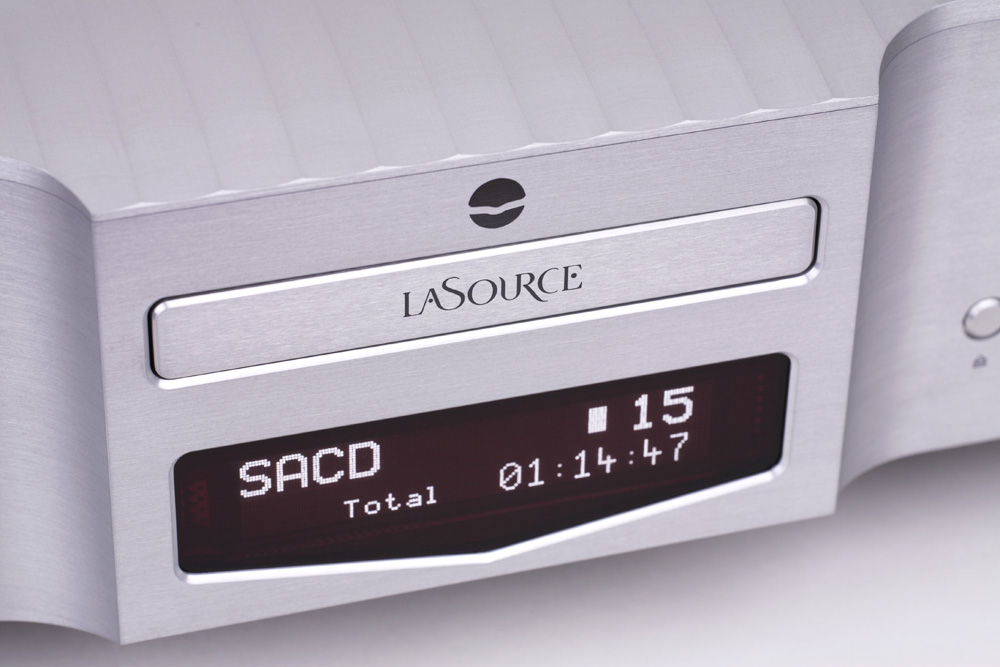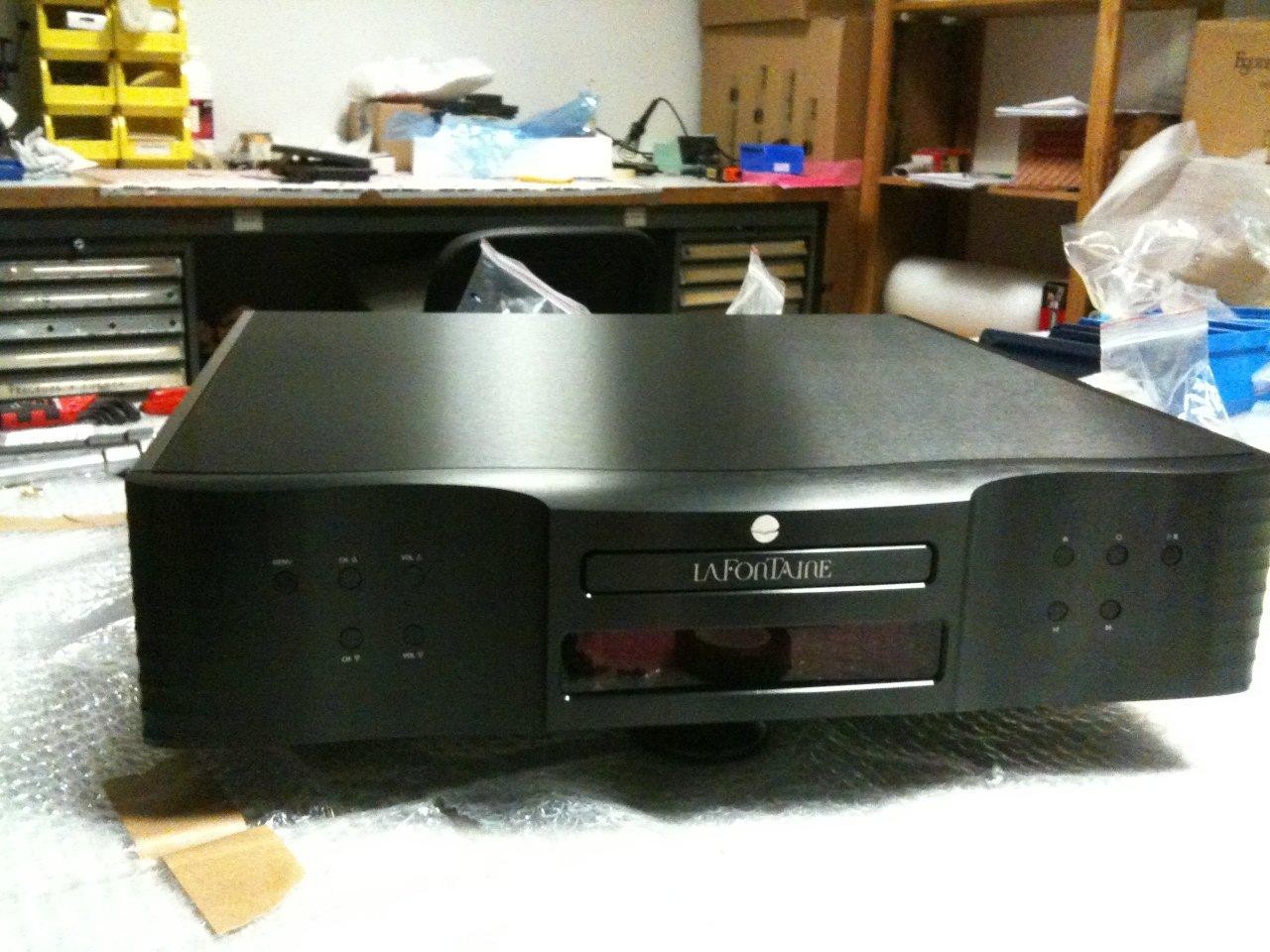 Passion for music is simply the reason why Audio Aero exists. Since 1997, we have been developing and manufacturing some
of the best audiophile CD players in the world, without compromise. Our philosophy is to reproduce the most natural and realistic sound, bringing the emotion out of the music. To do so, Audio Aero has developed a unique concept of Hybrid circuitry featuring the most accurate digital treatment using an exclusive 32 bit re-sampling technology and subminiature tube output stage. This exclusive process represents the missing links between the analogue and digital worlds. The advantages are obvious once experienced.
For the first time in our history, Audio Aero Design has decided to create its top of the line CD/SACD Player : « La Source »
This creation is our own « interpretation » of the ultimate Source, using not only the latest technology available in the digital domain,
but also the synthesis of all our know-how accumulated over 10 years of experience, testing and listening.
We hope you will enjoy and feel the same deep emotion we experienced when we finalized the design of this new player.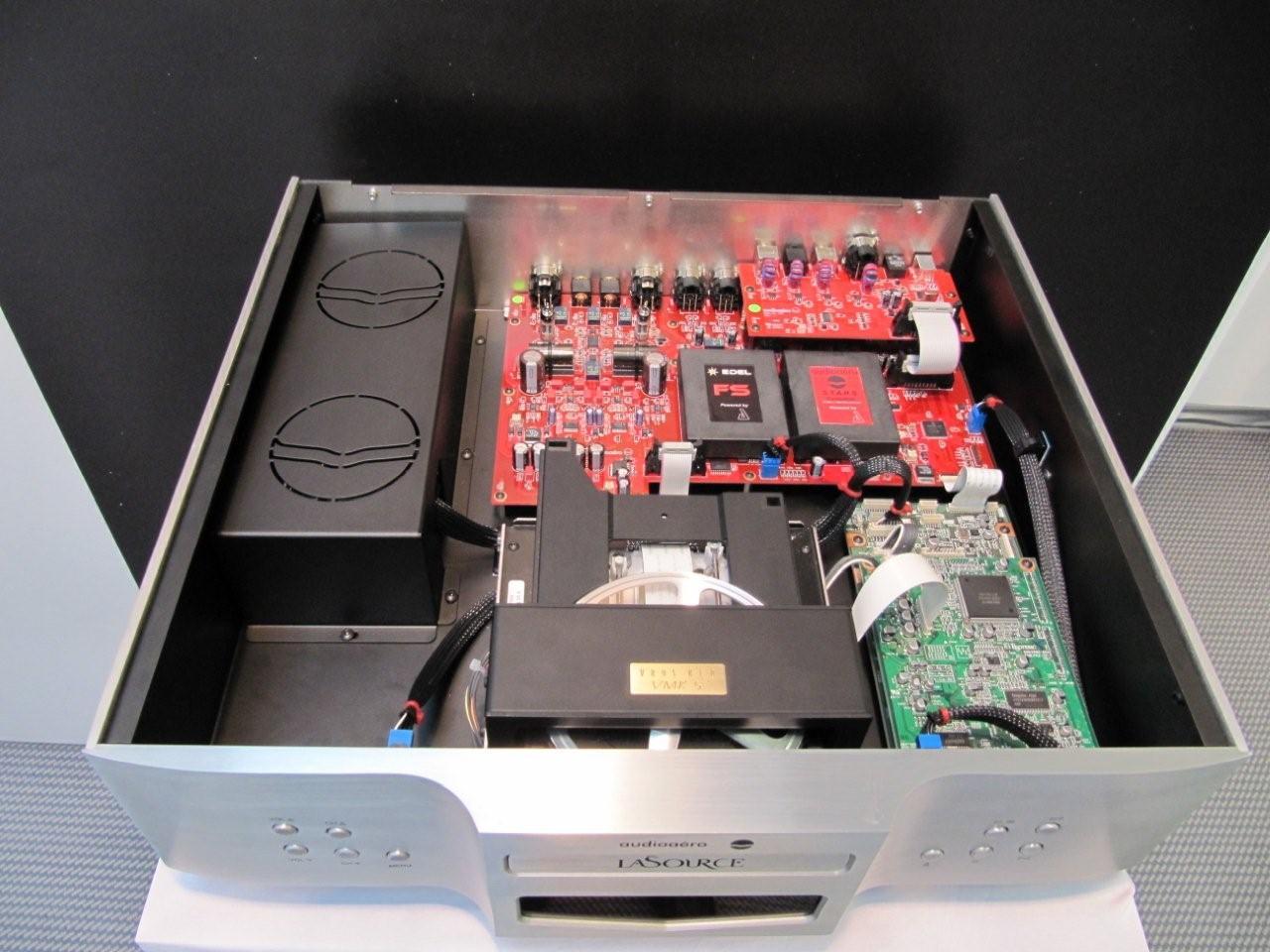 and from the past:
Excerpt from Hi-Fi Choice November 2007 issue (Alan Sircom):
Beautiful Systems: The big issue
"Mix the latest in audiophile high technology with the best in 1930s radio valves and the result is huge ............in every sense"
"The individual components are all of the absolute first water and they all contribute to a sound so utterly right, you'd be forgiven for thinking someone had slipped LSD in your Horlicks"
AUDIO AERO PRESTIGE CD/SACD PLAYER: ARTEMIS LABS LA-1 PREAMP: AUDIO AERO PRESTIGE POWER AMPLIFIERS: BC ACOUSTIQUE ACT A4 SPEAKERS

SUFFER FOR YOUR ART
So what exactly does it offer? Well, ther's a sense of 'thereness' that's uncanny and not far removed from the sort of sound made by that long-standing audiophile super-reference point, the Audio Note Ongaku. It must have something to do with the ultra minimalism of the amplifier stages, or maybe the magic kicks in wherever you get power valves that are the size of a small marrow. Whatever it is, this system has 'thereness' in spades. 'Thereness' is easy to define, and yet somehow impossible to explain cogently. Go someplace where (preferably unamplified) live music is taking place and listen. Then go back to your normal hi-fi system and play something similar. Feel the disappointment? Now, do the same on this system and you'll feel more like you are 'there' at the live event. You'll also feel the disappointment lift. Nope, it doen't vanish entirely' this is a hi-fi system, not a Tardis. But therein lies the real joy of this kit. The next big upgrade on this system isn't a new disc player or bigger speakers...it's a time machine. To get a considerably better replay of the Count Basie Orchestra in full swing involves nipping back to the 1950s and sitting in on the recording.....
THE ACID TEST
Ultimately, it's pointless to single out an individual component in this system. They are all of the absolute first water and they all contribute to a sound so utterly right, you'd be forgiven for thinking someone had slipped LSD in your Horlicks. If you were either to substitute one of these products in another system - you'd quickly see how good every part is. So don't bother looking for weak links; there aren't any. If you were to sit in front of this system for 30 seconds, you'd be wowed by the dynamics. That's the immediate rush out of the way. After that, the long-term listening shows there's much, much more than top-notch dynamics. It has the grace and charm to make the system come to life whatever you plonk in the player. It has the sort of 3D imaging that seems so natural that if you were to play a recording made at a festival, you'd be able to smell the veggie burgers. It has the detail that will allow Clapton obsessives to spot that he changed to a heavier guage of strings for a particular solo. And yet, for all this, the whole system remains fundamentally musical.
It's hard not to be impressed at each of our Beautiful Systems. Each one is different from the last, but each one capable of delivering so much good sound. And yet, even among such lofty peers, some systems shine as being a notch above the rest. This is one such system. The only word is 'wow'!
Alan Sircom Hi-Fi Choice. Full article in Hi-Fi Choice November 2007: "Beautiful Systems".
Thank you for visiting - Ron Tabor - Director, The Audiophile Club