EXCITING ANALOGUE PRODUCTS FROM ROSSNER
Presenting the turntable with the heaviest standard production platter, at 47kg.
As a special order we can supply a platter up to 100kg on the GML45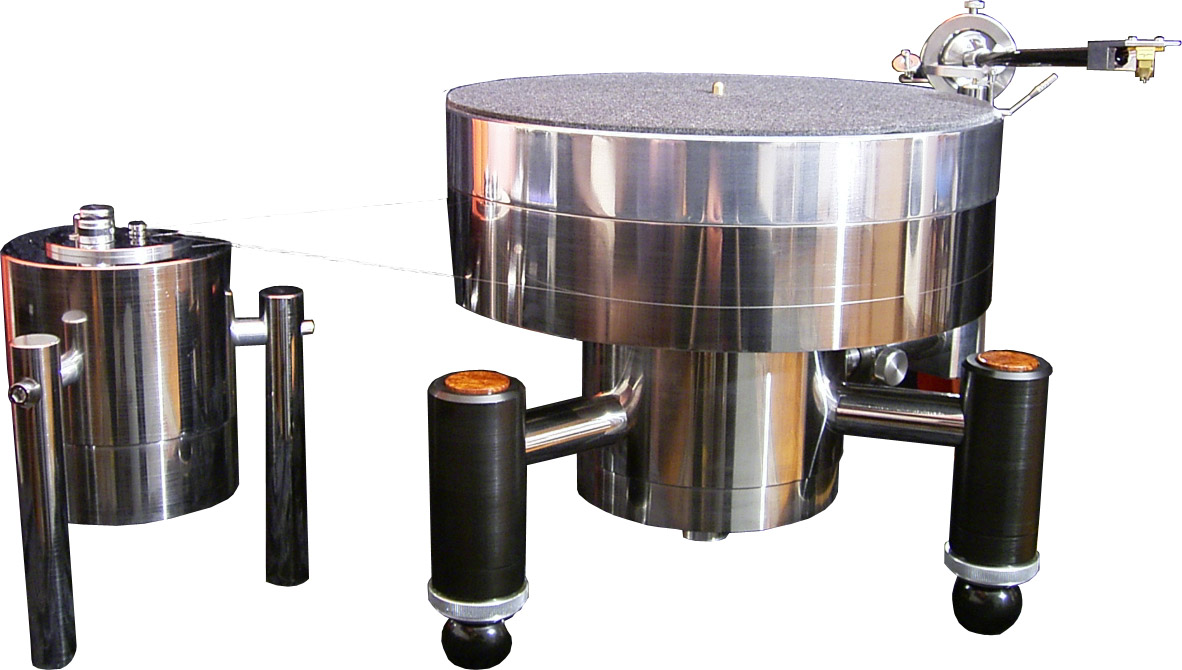 THE MASSIVE MONUMENTAL PHONOPHANT TURNTABLE ......................
With the qua;ity of our Audio Aero, we needed a vinyl playback sysyem , that could develop the qualities of analogue further in the competition of A v D.. In the Rossner turntable we have a solid and powerful base, using a dual aluminium oxide bearing, one of the hardest materials known to man, offering only one microscopic point of contact for perfect pole rotation.
The platter is made from an open sandwich construction, one layer is soft aluminium/magnesium alloy, and the other in Iconel. It has a PLL controlled 3-polar direct current engine, inductive rotor position check, and minimal gyratory moment of inertia, adjustable speed for 33/45 with separate potentiometers.
Two models are available, the GML 30 and the GML 45. The GML 30 has a 30kg platter, 25kg bearing unit and 16kg motor unit. The GML 45 has 47kg platter, 25kg bearing unit and 20kg motor unit. Any weight up to 100kg is available to special order.
The S1 tonearm, available as SI1 with a 10 inch or SI.1.2 with a 12 inch arm has a specially developed surface-tensioned silicon oxide arm-tube and headshell in aliminium/magnesium for excellent resistance against vibration, providing detailed natuaral and dynamic sound with weight and subtlety. It features sapphie bearings, made by a watchmaker in Switzerland. The gimbal is fitted in a rotation cage of stainless steel, For anti-skating, a gravitational mass-compensation device is featured with oppositely working weights gives precise torque and is adjustable while in use.
.......................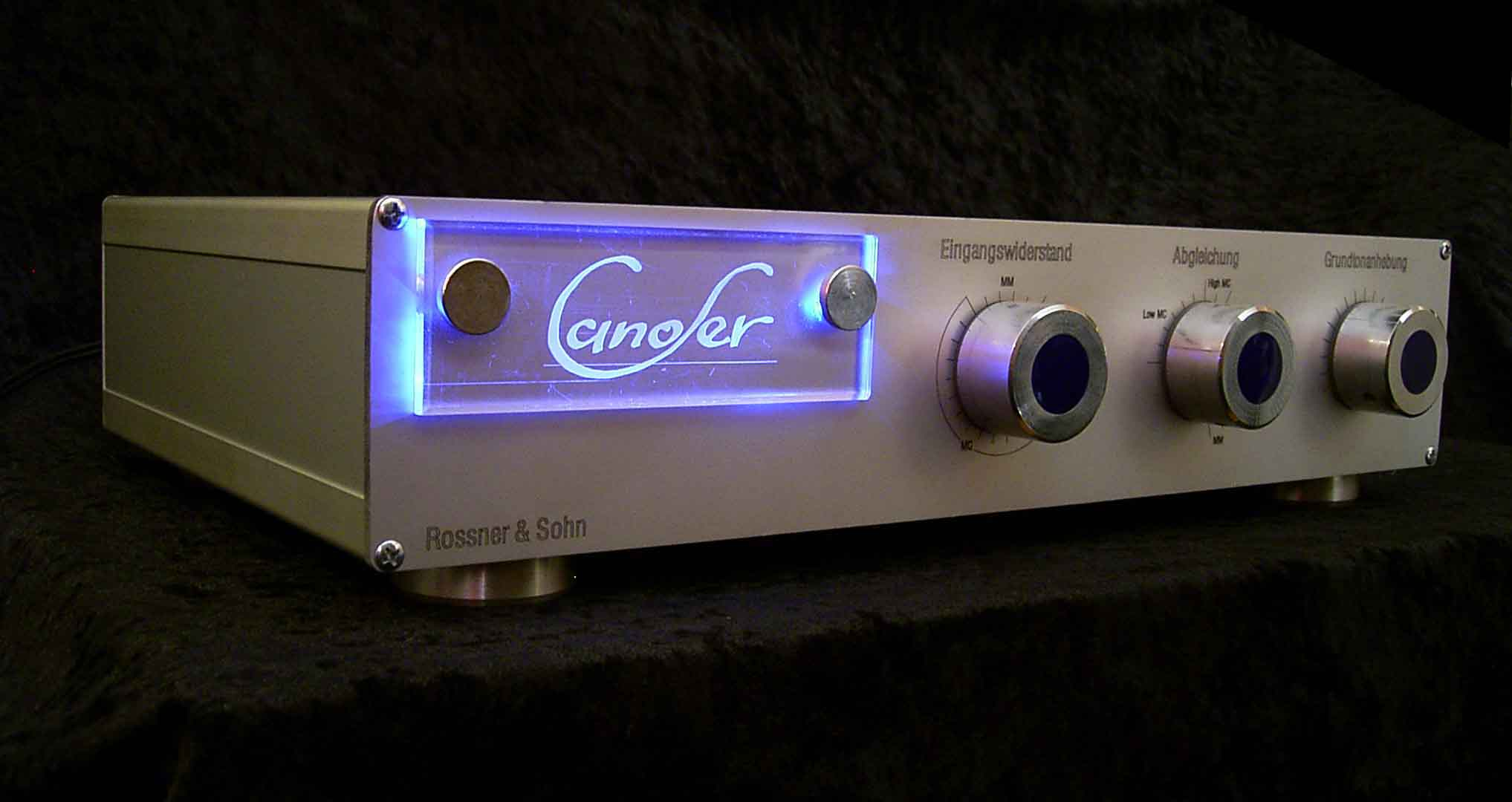 CANOFER PHONO STAGE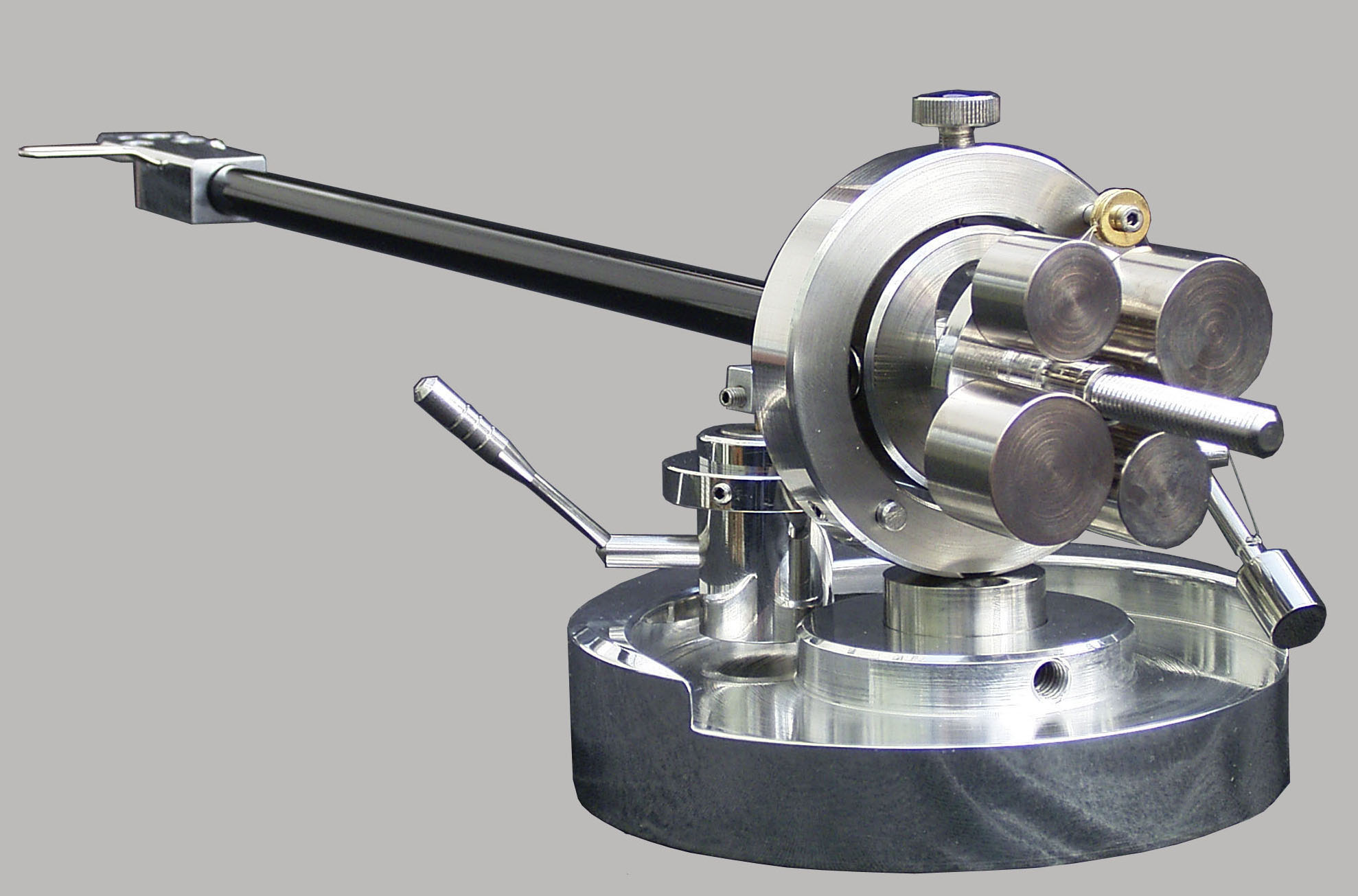 .SI 1 TONEARM
The dual mono phono Stage, MM (-40dB)/MC (60dB) with 2136 settings settings uses Mundorf Silver oil in foil condensers, for low level signals with no loss of sound, noise free ELMA switches and a special suspension system to isolate and decouple the board which is also shielded from the enclosure. The remote Power Supply is available with rechargeable battery. It uses perfectly attuned precision noise free ELMA switches, Nextgen connectors by WBT, and a special suspension mechanism completely decouples the enclosure from the board , which is extra shielded to eliminate all sonic and electromagnetic faults
Technical Data
Length 437mm, height 105mm, width: 267mm
Enclosure: Anodized aluminium
Input sensitivity (200mV output(: MM -40dB/MC -60dB...2.0mV/0.2mV/1kHz
Input impedence (MM): 50k/90pF
Max. input voltage: 110mV (at 1kHz)
Distortion factors (200mV output): 100Hz, less than 0.001%, 1kHz, less than 0.001%, 20kHz, less than 0.001%
Distortion factors with overdriving (+32dB; 8.4V output): 100Hz, less than 0.016%, 1kHz, less than 0.010%, 20kHz, less than 0.010%
Observance of RIAA characteristic: +/- 0.15dB
Frequency response 0Hz - 40kHz +/- 0.15dB
Signal to noise ratio: 88dB / 0.775Volt, V=100
Operating voltage: 15V DC
Current consumption: 25 mA
External power supply unit

CANOFER S
The Canofer S is equipped with Mundorf Mcap supreme and Mcap Supreme Silver/oil foil condensers, to give a more open and delicate and airy sound and an organic portrayal of the music with no loss of the dynamics. The bass foundation is more solid, mids more exquisite and highs more silky with no loss of detail.
POWER SUPPLY
This gives an absolutely constant performance. To reduce resonances, the transformer is encased in plastic, Filtering by a nigh quality Elkos unit gives a volume of 10000 uF, the use of several condensers equalize voltage swings precisely and with ease, so that an absolutely precise votage is supplied constantly.
Length 274mm, height 48mm, width 166mm
Enclosure: Anodised aluminium
Mains connection achievement: 4.8VA Safety Device: 0.1A, slow acting
Output voltage stabilised, internally adjustable: +/- 4.0 v to +/- 25.0V
Max. output current: 100mA, ripple voltage: less than 0.01V
Battery supply: 4 x 9v cells, 250mAh
Charging time: 6.0 hrs; Discharging time: 7.0 hrs
Voltage monitoring: Delta U-method, 0.25%, timer 6.5hrs (4.5 hrs)
Trickle charging: 1/10 charging current periodically
Charging current: 70 mA DC
Nominal voltage power pack 36.0V DC
Operating voltage power supply unit: +/- 23.0V DC/100mA
Operating range -10 - +40 degrees C in dry rooms
Output: 5 pool DIN plug with bayonet coupling, 1.25m

PLUS PHONO CABLES TO GIVE YOU A CONTINUOUS SIGNAL PATH FROM CARTRIDGE TO AMPLIFIER
Read rave reviews on dagogo and enjoy the music - who describe this as the quietest phono stage due to the floating signal stage
The Audiophile Club, PO Box 6477, London, N13 4AY, United Kingdom
Tel. +44 (0) 20 8882 2822 ..Fax. +44 (0) 20 8372 3772
e-mail: sales@audiophileclub.co.uk
20/11/19