EARMAX: THE REFERENCE HEADPHONE AMPLIFIER
NOW AVAILABLE THE LONG-AWAITED B.E. EDITION
with massive P/S in Black or Silver (photo coming soon)

During the last 16 years we have had nothing but praise for these highly acclaimed Headphone Amplifiers. Ken Kessler was the first to establish that these amps were indeed something special - an OTL single-ended all valve high end amplifier, the cutest thing you could lay your eyes on, and the most amazing in sound quality.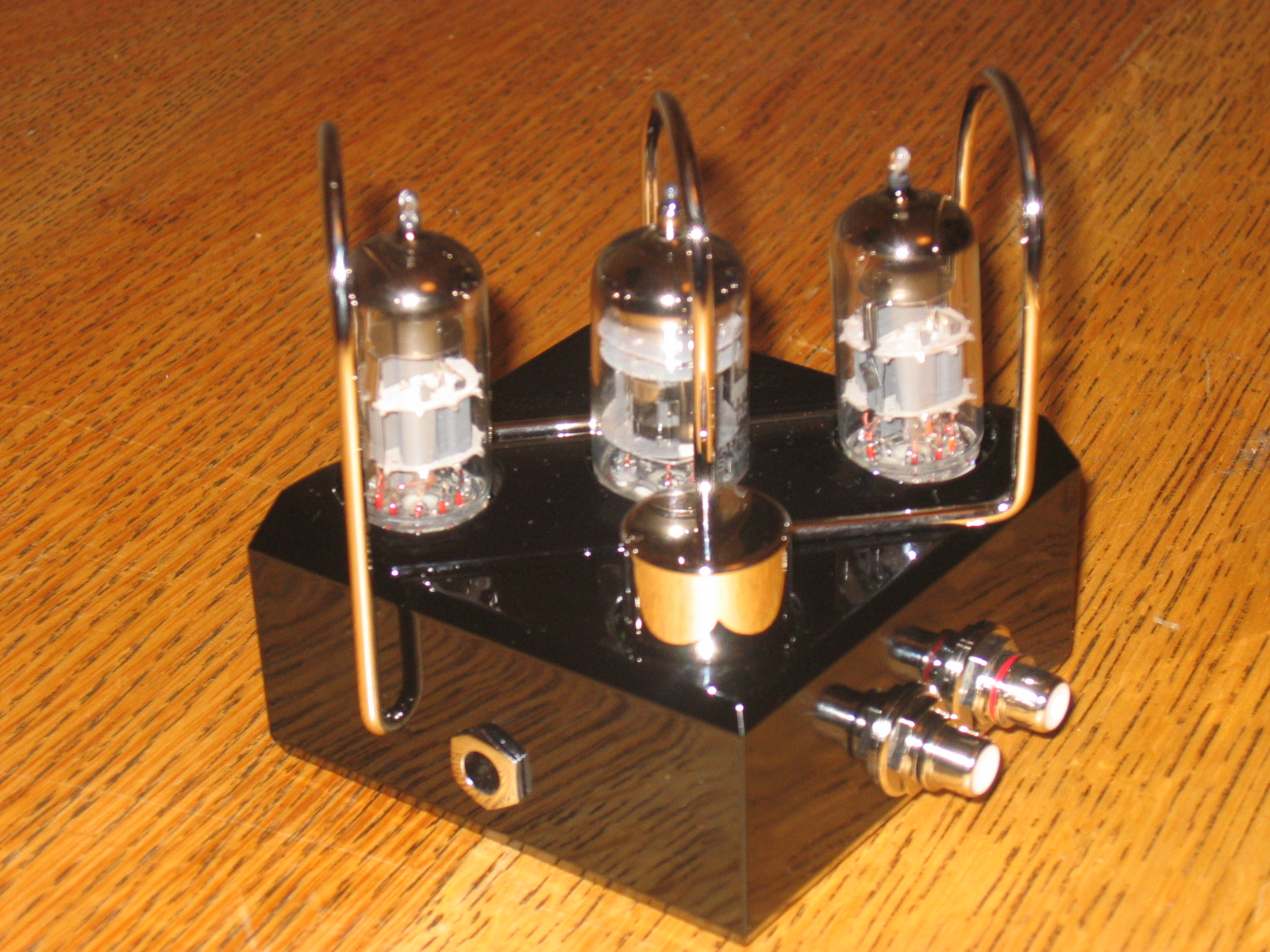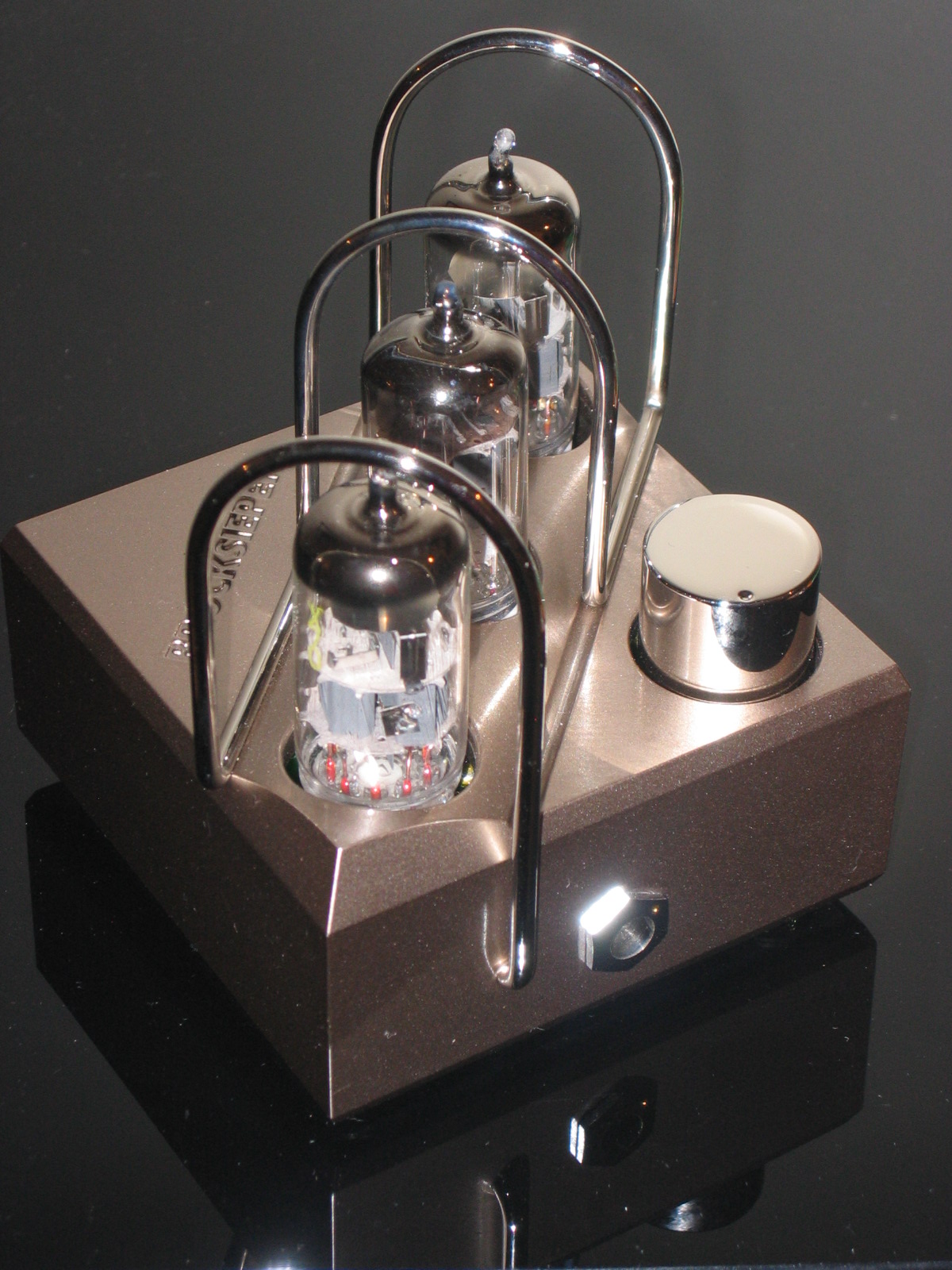 Earmax Pro now in piano black/chrome; Silver Edition

Since that time, there have been 4 major improvements, firstly a new sleek machined finish replaced the home-made "Fred Flintstone design" collectors' item, and secondly the Pro version was introduced to cater for the low impedence and difficult to drive phones, such as those by Grado and Sony.
The Pro version with this improved matching and more professional cabling and power connection has been heralded by Ken Kessler again and by What Hi-Fi, in their high end "Temptations" section, but the most recent review is that which was featured in Gramophone, the international Music Magazine.
To be featured, alongside all the other headphone amplifiers, especially all those which have been appearing out of the woodwork, to try to challenge the King for his crown, and to have been adjudged as the best of the lot, is extremely gratifying:
"Sounding big weighty and tremendously smooth, the Earmax cruises through the busiest of orchestral climaxes, always sounding fully in control while being capable of huge low-down slam. Compared with others (which included Naim, X-Cans, Creek, Headroom) , it may seem a little laid back at first... but you soon become aware that it's the other designs' emphasis on the leading edges of notes that accounts for this and that the Earmax is equally true to the source material....The Earmax impresses most with its presence...No amp here gives you that feeling of 'being there' quite as well as this tubed tot. Add to that its effortlessness, its ability to convey all the emotion behind a piece and its striking looks, and you have a headphone amplifier to treasure. The Earmax Pro.. is the best sounding unit in the group."
For the third improvementm the Silver Edition has become the new superior quality reference headphone amplifier, with its larger power supply, which offers 7 times the gain as on the Pro model and a new chic metallic finish. Now there is a silence noticeably black and amazing dynamics. In fact it operates totally without effort with only a little volume setting.
And finally - the PHONO-MAX an MM/low output MC stand alone phono-stage, which is the same size as the Earmax itself. How do you tell the difference? There is no headphone socket! This is as you would expect an exceptional phono stage at an affordable price.

Have you tried our valve replacement service? We will let one of our audiophile clientele tell you about it:

"I forgot to let you know I received the valves: all 3 mullard from Holland. Finally got round to changing the valves today, was pretty easy to pull out the old ones and insert the new ones into the Earmax. Was a little concerned when I noticed they looked a bit different inside but I have to say I'm really glad I changed them now, sounds much better. The bass is a bit tighter but most importantly the top end is a lot more focused now, before it was sounding a little hissy/fizzy on some tracks. Now its more together and I'm hearing a bit more detail, reminds me of the sound when I first got the Earmax.
So great job on the valve selection, thank you. It's good to know someone that genuinely cares about sound :)"

Regards Laurence


The Audiophile Club, PO Box 6477, London, N13 4AY, United Kingdom
Tel. +44 (0) 20 8882 2822 ..Fax. +44 (0) 20 8372 3772
e-mail: sales@audiophileclub.co.uk

20/11/19