SERVICE & REPAIRS
THE AUDIOPHILE CLUB HAS EXPERT SPECIALISED ENGINEERS TO REPAIR ALL AUDIO AERO PRODUCTS

AUDIO AERO
THE MASTERPIECE: LA SOURCE
Once you have heard it, you will not want to let it go. Seriously, it's that good.
Do you then dare to have a demonstration?
The new reference level 32bit/384kHz Music Hub DAC Preamplifier from Audio Aero, with analogue and USB inputs, to play and resample all hard disc music files including digital signals from iPods, a USB which removes all jitter..... Available as a CD/SACD Player and now simply as a Hub/Preamp/DAC.
From our listening tests we have found that this CD Player is the icing on the cake to a reference system. Comments have been that it is exceptional, amazing, never like this before, and that the photos do not do justice to its solid sculptural massive form. This is no simile: enter the metaphor. It is not just like being there, you really are there! Your room is the stage studio or night club.
A 25kg slab of carved polished aluminium, delivered in an equally stunning 12kg foam-lined wooden panelled flight-case.
Each unit is custom made for you and is available within 6 weeks of payment.
La SOURCE: HAUTE FIDELITE REVIEW2010 ..
CLICK ABOVE TO READ THIS RAVE REVIEW OF LA SOURCE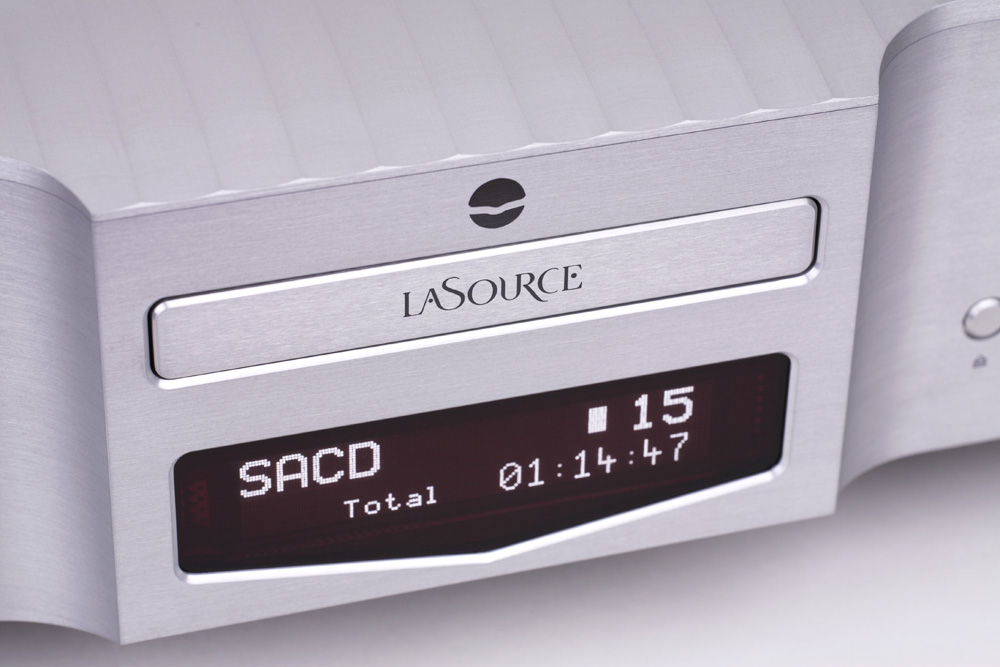 Passion for music is simply the reason why Audio Aero exists. Since 1997, we have been developing and manufacturing some
of the best audiophile CD players in the world, without compromise. Our philosophy is to reproduce the most natural and realistic sound, bringing the emotion out of the music. To do so, Audio Aero has developed a unique concept of Hybrid circuitry featuring the most accurate digital treatment using an exclusive 32 bit re-sampling technology and subminiature tube output stage. This exclusive process represents the missing links between the analogue and digital worlds. The advantages are obvious once experienced.
For the first time in our history, Audio Aero Design has decided to create its top of the line CD/SACD Player : « La Source »
This creation is our own « interpretation » of the ultimate Source, using not only the latest technology available in the digital domain,
but also the synthesis of all our know-how accumulated over 10 years of experience, testing and listening.
We hope you will enjoy and feel the same deep emotion we experienced when we finalized the design of this new player.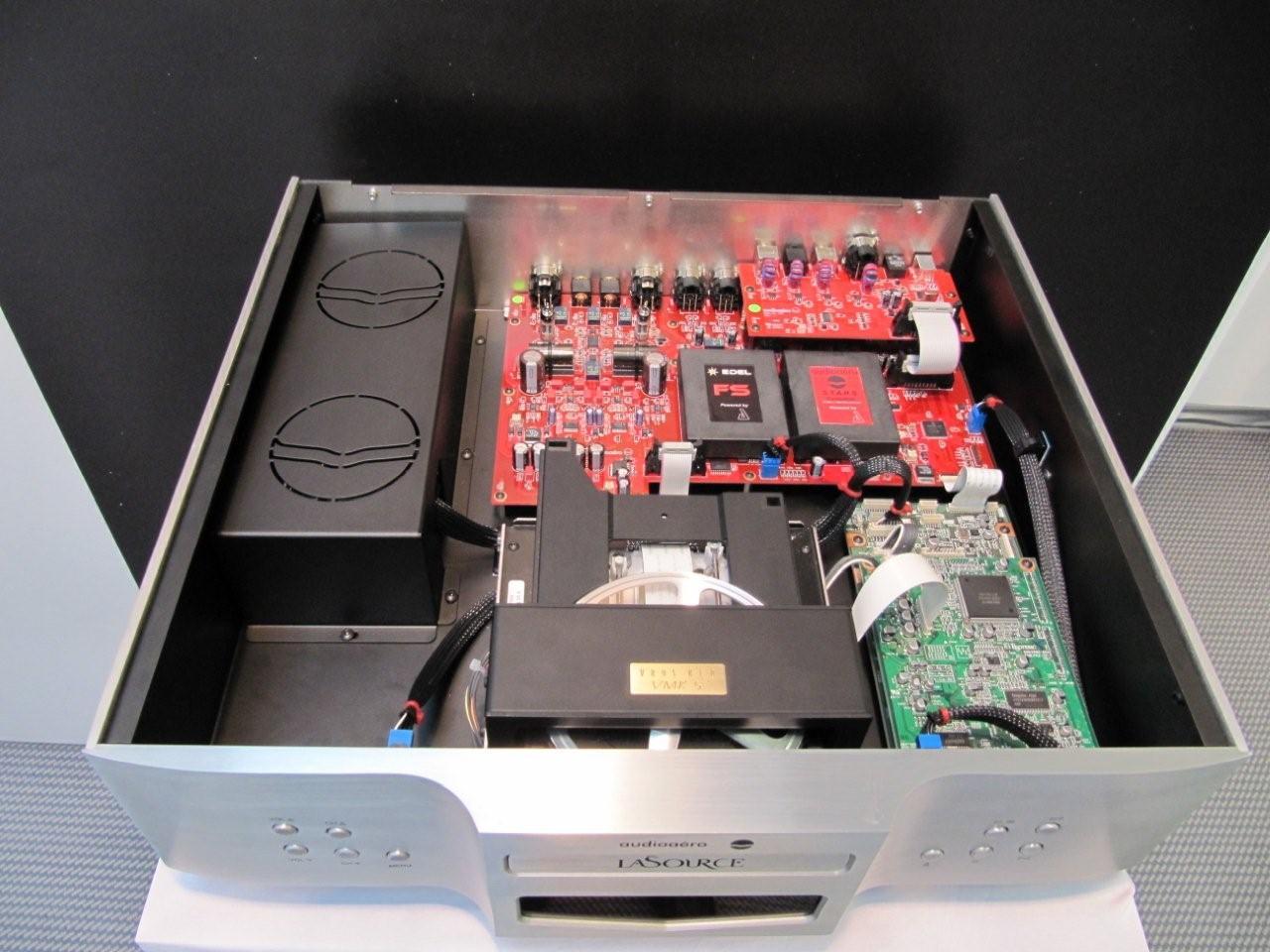 THE FABULOUS LA FONTAINE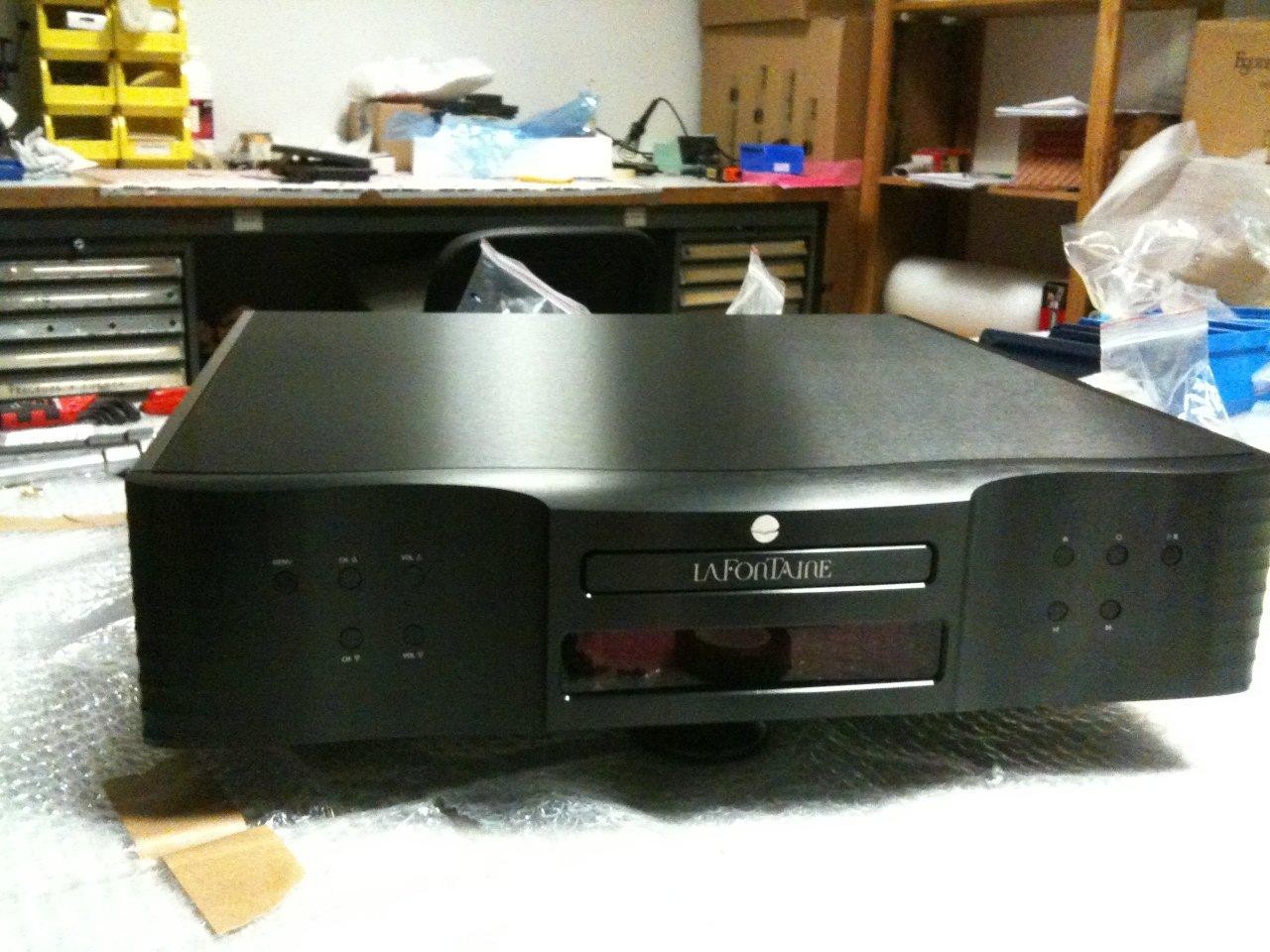 A MORE AFFORDABLE OPTION TO LA SOURCE
INTRODUCING LA FONTAINE: THE FABULOUS NEW MUSIC HUB DAC PREAMP WITH DIGITAL USB AND ANALOGUE INPUTS AVAILABLE WITH OR WITHOUT THE CD/SACD TRANSPORT LA FONTAINE: FROM £11,900 inc VAT
And......La Source Music Hub DAC: Now Available LA SOURCE: FROM £19,995 inc VATALL LA SOURCE AND LA FONTAINE MODELS ARE NOW FITTED WITH ASYNCHRONOUS USB PORT
TO ENABLE HIGH RESOLUTION FILES UP TO 192 kHz TO BE PLAYED AT FULL RESOLUTION

********
THE ALL NEW: SERVER
TO RIP AND STREAM MUSIC
CONTROLLED BY iPAD or iPHONE
unveiled MAY 2012 in MUNICH
THE CAPITOLE
This is where it all started and now we can provide asynchronous USB playback of high resolution computer files. Natural realism, excitement, emotion and dynamics
only come from true 192kHz resampling
Craig Leon, the professional recording producer of many recordings in many genres, says that he has "not yet a heard a CD player that so accurately reproduces the sound of the recordings I have done. Played back on the Capitole they sound as we heard them when we were recording the masters in the studio. You have a wonderful machine." .........www.craigleon.com
Influenced by the town of Toulouse, with an alliance of a long history and high technologies, they have developed a range of hybrid products with a special ability to reproduce very natural and realistic sound, always bringing out emotion from music.
For amplification, they avoided conventional tube designs to turn towards a combined parallel triode/pentode system. After two years research, they perfected the match of these two in power and achieved the new power amplification concept called TRAC® system (Tube Relay Amplification Concept). This configuration allows an exceptionally natural musical reproduction. In the digital domain, they are famous for the Capitole CD Player 24/192 which re-samples the CD digital signal to 24 bit / 192kHz, using their exclusive 32 bit / 192kHz S.T.A.R.S.® process developed for Audio Aéro by the Swiss company Anagram Technologies and featuring a subminiature tube output stage with a high quality IC attenuator. This unique player brings the audio CD to a new level of performance and represents the missing link between analogue and digital equipment, offering the flawless musicality of analogue and the advantages of digital support. Consequently they are confident of their saying,"Take the Redbook challenge!"
Capitole CD Player 24/192 received the "Reviewers Choice 2001" award by Soundstage!: "If you think digital, particularly CD, sounds dry and sterile, then listen to these players. They are as smooth, sultry and sweet as the finest analog and, quite simply, two of the best CD players I've heard. In fact, CD players like this don't even have me wanting for DVD-A and SACD." The Capitole CD player has been reviewed in many other publications also and is consistently mentioned with the best CD players in the world. The Capitole has changed over the years with the introduction of preamplifier abilities, and the introduction of analogue inputs. It has recently been improved again with the introduction of the Capitole CD player Reference.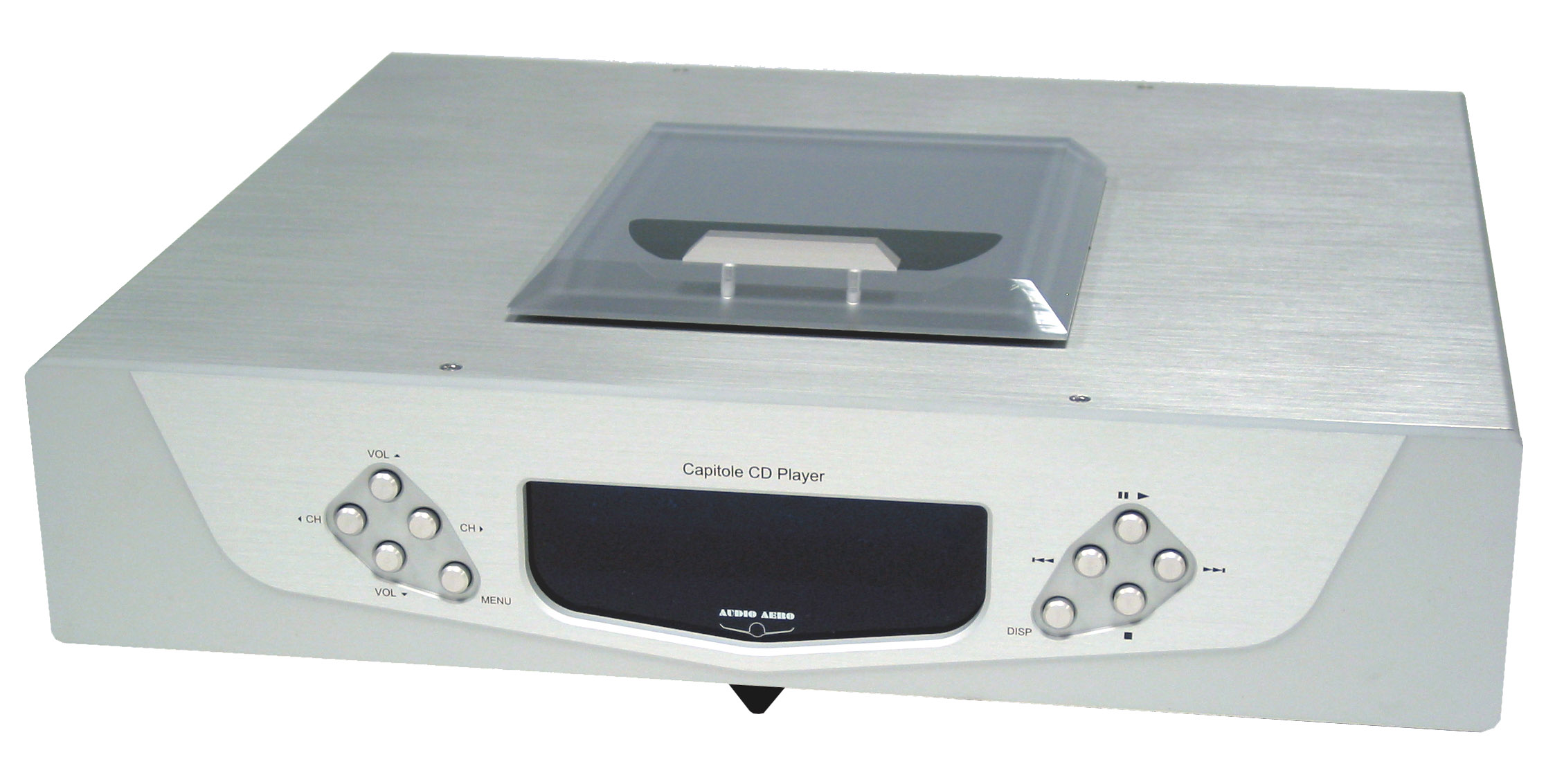 .......................TECHTECHNICAL SPECIFICATIONS DESA........................


The Audiophile Club, PO Box 6477, London, N13 4AY, United Kingdom
Tel. +44 (0) 20 8882 2822 ..Fax. +44 (0) 20 8372 3772
e-mail: sales@audiophileclub.co.uk
18/02/14
SERVICE & REPAIRS
THE AUDIOPHILE CLUB HAS EXPERT SPECIALISED ENGINEERS TO REPAIR ALL AUDIO AERO PRODUCTS